Our New Neighbor: The Kauffman Center for the Performing Arts
After watching the Kauffman Center for the Performing Arts rise and take shape these last few years, it's finally complete. We took a guided tour last week and were suitably amazed and impressed.

In the single building there are actually two, distinctly different performance halls: The Muriel Kauffman Theatre (to be used for dance, opera, and other staged productions), and Helzberg Hall (new home of the Kansas City Symphony). Although similar in size, the Kauffman Theatre seats 1800, while Helzberg Hall seats 1600, the two spaces couldn't feel more different.
The Kauffman Theatre, though very modernist, feels reminiscent of old European Opera houses, with multi-tiered balconies arrayed in semi-circular vineyard style. We got a special treat during the tour as the performers were in rehearsal for Cosi fan Tutte and were able to sample the superb acoustics as the orchestra accompanied the soprano.
Helzberg Hall, on the other hand, is an incredible, open, modern wooden space, with sweeping lines and seductive curves. The stainless steel curves of the exterior shell are visible on the back wall, and an elaborate Casavant Frères pipe organ which is still awaiting final tuning.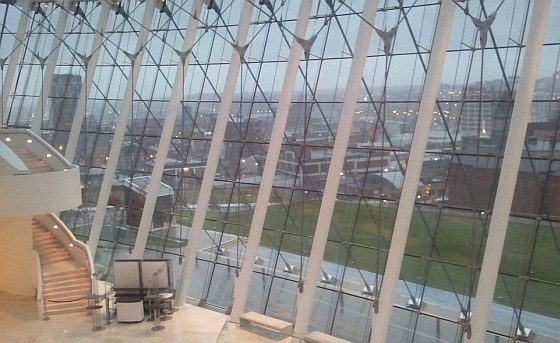 You enter the space through the Brandmeyer Great Hall, with its grand curves and all-glass southern wall offering a spectacular view of the city and the Liberty Memorial and World War I museum.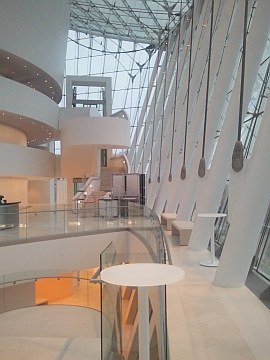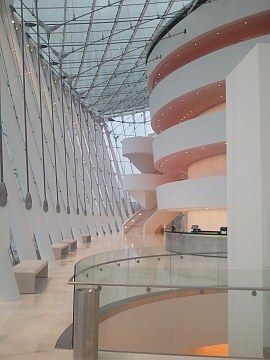 Free tours are available and I highly recommend them. Access to the performance halls may be limited due to performance set up and rehearsal, so make sure you call ahead.
Related Articles: