Product Tool Development: the Product Selector
As part of our ongoing work with Labconco, a Kansas City-based laboratory equipment manufacturer, we've come up with a new Product Selector to help users figure out which Labconco enclosure is the most suitable for their application.
By asking a series of questions based on your workflow and potential use of the enclosure, the Product Selector filters through the hundreds of ventilated enclosure and exhauster products, and recommends the best product for your application.
You could do the same thing yourself by browsing through the various categories and narrowing your search using the filters on the left side of the screen, but we think the Product Selector is much quicker and a nifty way to find what you're looking for.
Want to see what we mean? Here's how it works.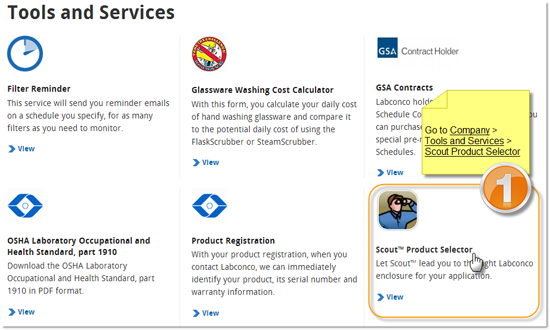 Visit the Labconco website to see the Product Selector in action.
At Ebeacon we're always looking for better ways of helping your customers find what they need from your catalog or website. Check out our Services pages to see what else we can do to help your business thrive. Or, if you already know you need better product selection tools, contact us to discuss your project.